Regular price
$149.99 AUD
Regular price
Sale price
$149.99 AUD
Unit price
per
SALE!
SOLD OUT
THE SWORD OF STRIDER, RANGER OF THE NORTH

The sword in LOTR to start the legend himself, Aragorn, the King of Arnor
Perhaps belonging to the greatest swordsman of the Third Age, this sword's journey with Aragorn has earned him his reputation and fearsome acknowledgement of his skill.
This Dúnedain chieftain's longsword is an elegant but simple blade, with neither flourish nor adornment, but reliable and keen, reflective of its owner.
It is a reminder of a man's story and humble beginnings.
Constructed and expertly hand crafted with the utmost precision and intricacy, this 1:1 life-size display sword is a MUST HAVE for any Lord of the Ring lover or collector.
Purchase it for yourself, friends or loved ones, its rarity and significance is truly irreplaceable. A worthy investment.
"What his right name is I've never heard: but he's known round here as Strider."
DESCRIPTION:
This humble blade has the following features:
-      The blade is made out of extraordinary 420J2 Japanese milled steel with an antique metal finish, proving easy to clean and resistant to both scratching and rust.
-      The handle is gripped with a genuine distressed suede leather covering making it both classy and comfortable to hold.
- Comes with a beautifully intricate genuine leather sword sheath with silver finished metal fittings.
- Equipped with an elegantly crafted 420J2 steel dagger, measuring at 24.8 cm fitted in the sheath.
-      A blade that is aesthetically pleasing but not sharpened so it is safe and easy to handle.
-      Comes with a complementary black sword stand, making it easy to display, giving you the chance to create a collectibles corner if you don't already have one!
-      Weighted at a comfortable but sturdy 1.07 kg with the leather sheath and dagger weighing 0.89 kg (1.96 kg total).
-      Measures at an impressive 112 cm in length with the handle having a length of 22 cm and the cross guard a width of 17 cm
Offering you this MUST OWN sword at an insanely affordable price, while maintaining its authenticity, if you had any doubts about purchasing, it's rather clear that this item belongs with you and not in our store!
This is a MUST OWN sword for ANY lover of the Lord of the Ring series and anyone with a good eye for collectibles 😉
Product is ABSOLUTELY BRAND NEW.
Made with the HIGHEST quality materials and crafted with special attention to reproduce the authentic details found in the series.
IN LIMITED SUPPLY DUE TO EXTREMELY HIGH DEMAND.
SHIPPING:
Currently shipping only within AUSTRALIA. 
Product ships out within 1-2 days.
Refunds accepted within a 14-day period! (however, shipping fee costs must be covered by the buyer and a 10% restocking fee may be charged.)
EXCEPTIONS TO FREE SHIPPING:
Our shipping services may charge extremely expensive postage fees depending on the location they must ship to, some of these areas are in WA (however not Perth), NT or some rural areas in Queensland, Victoria and NSW
For this reason, we may not be able to accommodate free shipping depending on your location (as we incur severe losses) and may ask if you are able to pay a portion of the shipping fee in addition to your purchase or refund your purchase.
Please be understanding!
PLEASE NOTE:
YOU MUST BE OVER 18 YEARS TO PURCHASE ANY EDGED COLLECTIBLE FROM US. PLEASE BE AWARE OF YOUR COMPLIANCE WITH LOCAL AND STATE LAWS TO LEGALLY PURCHASE SWORDS, KNIVES, AXES ETC. WE WILL NOT BE RESPONSIBLE FOR ANY CONSEQUENCES OF NON-COMPLIANCE.
SHIPPING AND RETURNS

Shipping from AUSTRALIA. We can also ship internationally however please note shipping may be expensive.

IN STOCK Product ships out within 1-2 days.

PRE-ORDER Products ships out after they have been produced and arrive to our store. Please check description for ETA.

Please note, we cannot ship toPO boxes, parcel lockers and remote islands

Change of mind returns/refunds are accepted within a 14-day period! (exceptions apply, please refer to policy page)
EXCEPTIONS TO FREE SHIPPING

We are unable to offer free shipping to rural or remote suburbs. Our standard shipping to those suburbs is $15-$20 depending on location.

Additionally we are also unable to offer free shipping for oversized parcels over 0.1 cubic metres or 10kg.

Please be understanding!
REGARDING RESIN STATUES/DEPOSITS

We require a deposit to reserve a figure for you! After received, we will keep you up to date on progress and any ETAs we have. After the statue has arrived in our warehouse, remaining payment will need to be paid prior to shipment or pick up.

Deposits for resin statues are NON-REFUNDABLE

Please note, we may also require an additional shipping fee for resin statues depending on weight and size of the product.

Pick up is available! Please pick up if you can to avoid any risk of damage during transit.
LEGAL INFORMATION

You must be over 18 years to purchase any edged collectable from us. Please be aware of your compliance with local and state laws to legally purchase swords, knives, axes etc. We will not be responsible for any consequences of non-compliance
View full details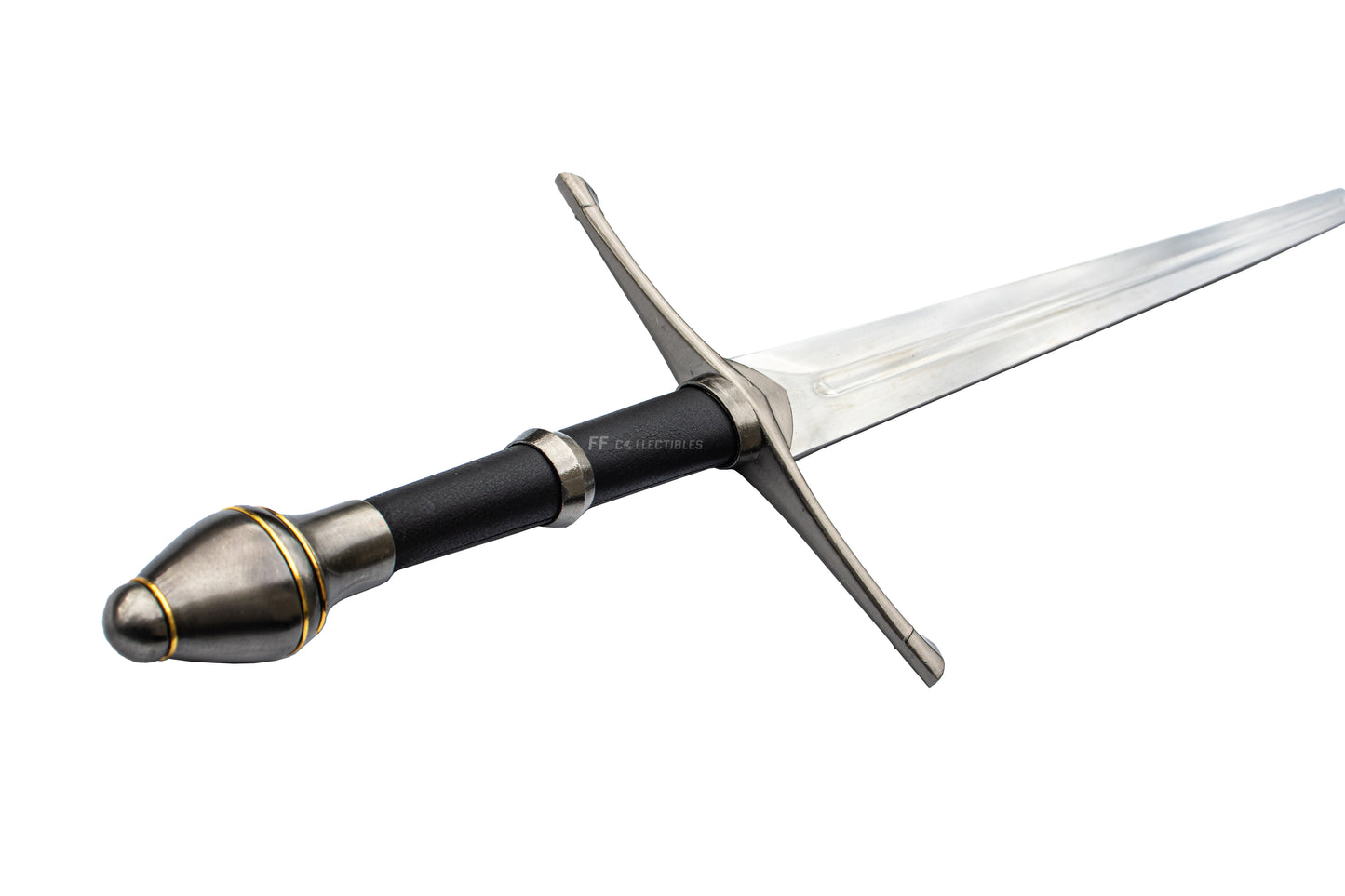 Great product!
Quick postage, item is amazing.
Highly recommend.
Great sword
Perfect sword and price, happy with the purchase!
AMAZING
GREAT STUFF AND JUST IN TIME FOR MY PARTY
LORD OF THE RINGS - STRIDER'S RANGER SWORD with SCABBARD/DAGGER (w FREE stand)
Great product!
Quick postage, item is amazing.
Highly recommend.
Great sword
Perfect sword and price, happy with the purchase!
AMAZING
GREAT STUFF AND JUST IN TIME FOR MY PARTY
LORD OF THE RINGS - STRIDER'S RANGER SWORD with SCABBARD/DAGGER (w FREE stand)
FREE SHIPPING TO METRO SUBURBS

We offer free shipping to metro suburbs! If you are located outside, please select shipping for rural suburb at checkout or ask if you are unsure!

*Oversized items may still require additional shipping

*We do not ship to PO boxes or parcel lockers (residential or business addresses only)